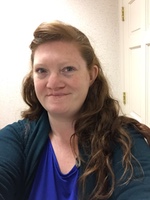 Lena Hand
Our co-lead organizer in 2018 is Lena Hand.
This is Lena's third year with The Perl Conference. While she has been involved in the community for a bit now, it was only recently that she added Perl to her list of recently learned languages. She's new to software development and still looking for the right place to call "home". In the meantime, she works on personal projects mostly in Java.
Lena enjoys crocheting in her free-time. She recently added knitting to her repertoire, but that was just so she could tell people she's bistitchual.